​Member F. Jon Howard is looking for a

Buzz Saw

for an IH Farmall H Tractor
Please contact him at
fjonh@hotmail.com
,
Club member
If you have an item you would like listed on our member classifieds page, please contact Jim at jfieber1@cox.net
Power from the Past
​C L A S S I F I E D S
1947 model D John Deere $2250.00
​ 1947 John Deere model B $2000.00
​ 1953 John Deere 70 $4500.00.
​ There are weights and extra stackes
​that come with it.



Call Bill Johnson 520 616-7071




Located in Picture Rocks, NW Tucson​​​​​



Selling all three tractors because of health.
​
Great Pullers​​​

​FOR SALE Two Ford tractor rear wheel weights, $150.00. Bill Lanier, Jr. 602-803-4596 and please leave a message or email me at bigbugranch@yahoo.com.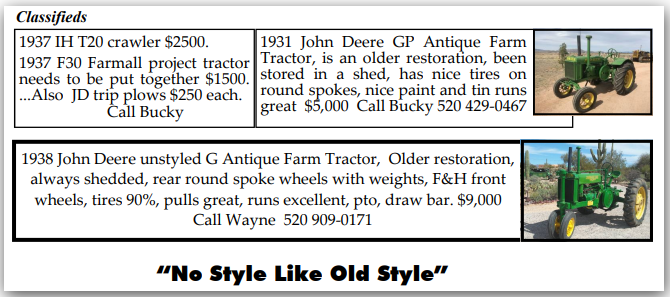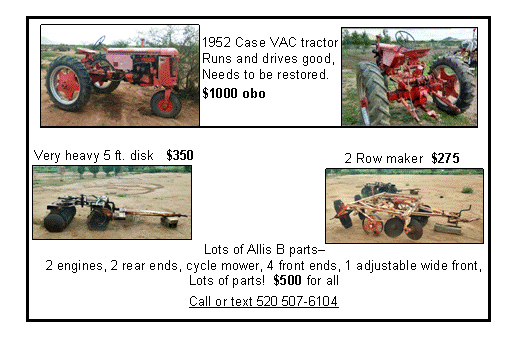 Case VAI

1944? New water pump,
​antifreeze,​12 v system and 3pt hitch,
​pto was added as 1944 didn't have one.
​ ​$2000 OBO. Tractor only
​

​

Farmall A

1946 Rebuilt motor a very
​strong ​runner, 12v system, pto.
​ Has a hand ​lift system. ​$2000 obo tractor only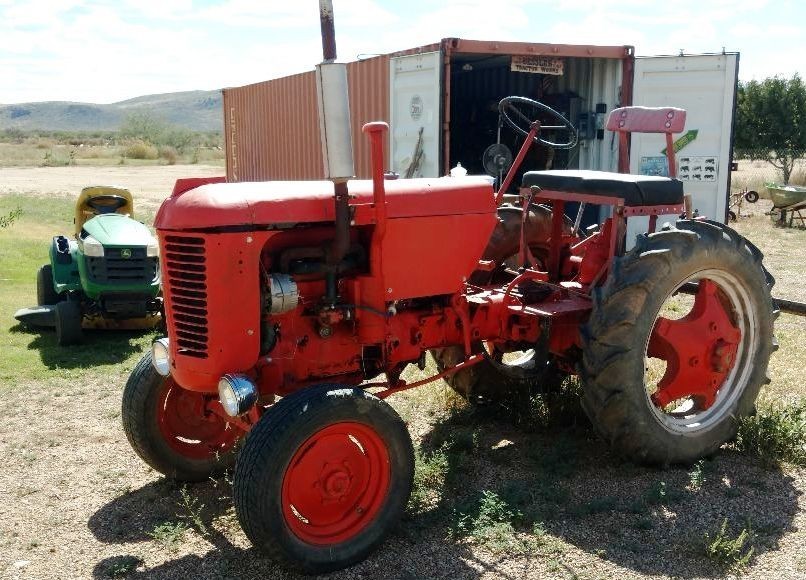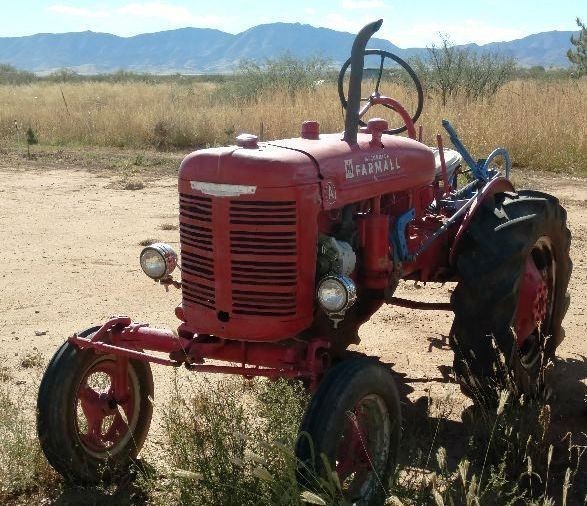 FOR SALE: 1930 Caterpillar, Model 15. Restoration completed 2015. No missing parts. Original 1930 color. Propane conversion. Starts, runs & steers good. Asking $6500 OBO.
​Call Ray or Kay (520) 495-4173.
It is a 1 HP gasoline engine, with 3 inch bore & 3.5 inch stroke.Hit & miss engine, 8 cycle high tension spark plug with one 20 inch flywheel. It does not need any additional cooling. Built around 1920. Was used with a windmill when there was no wind. The complete system, engine, pump, trailer & ducks---------- asking price $2500 OBO.
A very nice display piece.​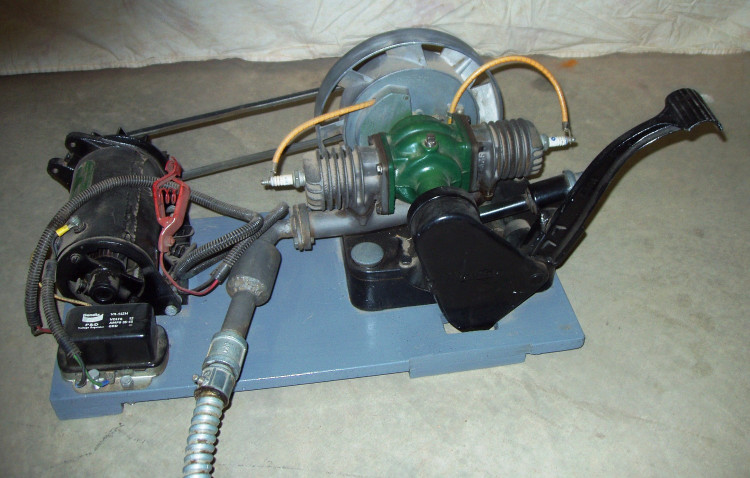 CORN SHELLER


restored & painted green
Asking $200​​
INTERNATIONAL LB
1 1/2 to 2 1/2 HP,
​ SR #A44999
Restored, Runs good, good mag. Belted to a corn grinder which has been restored. Bearings have been rebabbited in grinder
Asking $750​
​
CUSHMAN MODEL R 14


2 HP, SR #A40825 Rebuilt mag @ a cost of $325.
Asking $500​​
MAYTAG MODEL 72


twin cylinder, 5/8 HP SR #838712, belted to a 12 volt generator & regulator.
Asking $250​​
MAYTAG MODEL 82


1/2 HP, SR #190142
I have not run this engine.
Asking $200​​​
FAULTLESS


3 HP hit & miss, (rare) Completely rebuilt but not painted. Runs great, Ignition is igniter with low tension coil.
Asking $1,000​​
ICE CREAM MAKER


not completed,

WITTE

2 HP hit & miss with high tension ignition. Good sturdy cart with an ice cream churn & pullies.
Asking $750​​
HEAVY DUTY CART


$300 with


ROCK CRUSHER


$500
Safety guards are available ​​​​​
Call today, Clair St. Clair 520 378-0111
​ Sierra Vista, AZ
james@cis-broadband.com​